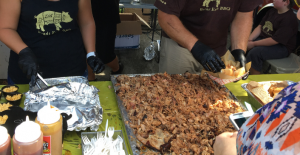 The Datil Pepper
July 22, 2020
St. Augustine's Sweet Heat Treat
St. Augustine is known for so many things like our beaches, history, and friendly residents.  However, we have a little secret that's even hotter than our summers- the Datil pepper. Clocking in between 100,000 and 300,000 Scovilles, this capsicum comes from the same species as the Carolina Reaper and Habanero peppers!
History
Though research from the University of Florida found that this pepper originated from South America, many Menorcan descendants falsely claim that their ancestors brought them from Spain.  Datils have been cultivated here in St. Augustine for many generations.  No matter where it came from, love for this spicy ingredient has been ingrained in the local food culture for hundreds of years.
A bowl of Menorcan Clam Chowder is the best way to experience this pepper.  Unlike creamy New England style chowders, Menorcan Clam Chowder is a tomato based dish usually made with onions, potatoes, and celery.  And, of course, Datil peppers to give it that signature heat.  Local restaurants have their own variations of this chowder, such as Aunt Kate's on Vilano Beach or O'Steen's just over the Bridge of Lions from Downtown.  Though our restaurants are an easy way to get a taste of the Datil, you can find numerous shops around town selling snacks and condiments made with Datil peppers.
Minorcan Datil has been making Datil pepper-based products for almost 30 years.  A family owned business, Minorcan Datil is one of St. Augustine's top producers of sauces, seasonings, and vinegars all made from our locally unique pepper.  They even offer seeds for you to grow your own!  You can find their delicacies in many shops around Florida and Georgia, or purchase them online.
We think Jonathan Safran Foer said it best in an essay for The Wall Street Journal: "Food is not rational. Food is culture, habit, craving and identity."
Disclaimer: Every effort is made to ensure the accuracy of the information in this article. Please credit OldCity.com when sharing and re-posting.
The post The Datil Pepper appeared first on St. Augustine, FL | Oldcity.com.
Old City