Valentine's Day in St. Augustine
January 13, 2023 Updated
Love and Romance
When it comes to romance, the city of St. Augustine knows a thing or two about love. Few places have as much romantic charm as the Nation's Oldest City with its cobblestone streets, horse drawn carriages and gorgeous sunsets. If you're looking to make plans for Valentine's Day, look no further than St. Augustine.
Shopping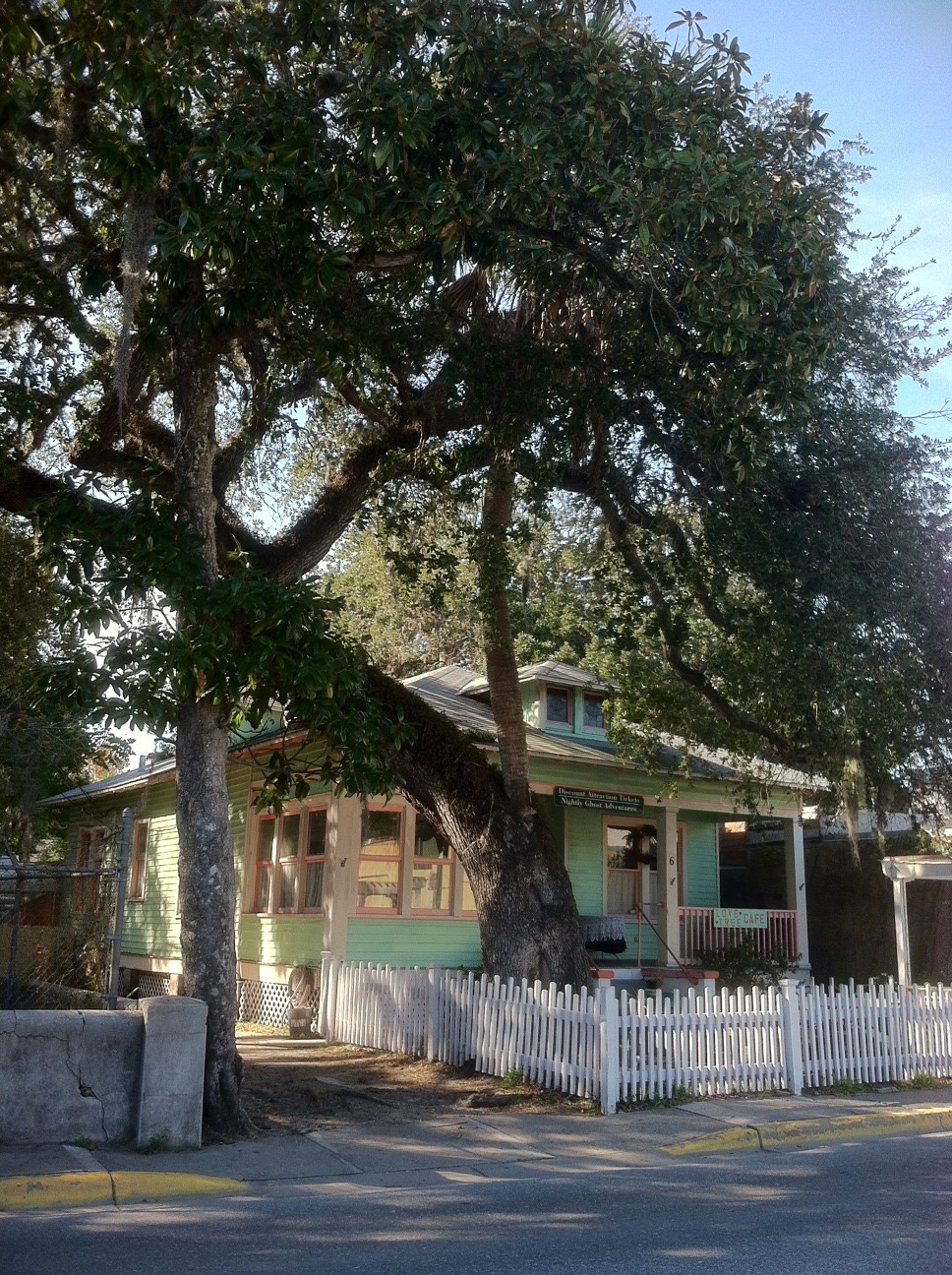 If we were to plan the perfect day of romance in St. Augustine, we think it would go something like this:
Upon arriving in St. Augustine we'd take a leisurely stroll through downtown, grab lunch at an outdoor bistro (maybe one of the ones with a beautiful little fountain that creates just the right sort of peaceful ambiance). After lunch, we'd browse through the gift shops on St. George Street and maybe pop into a few galleries on Aviles Street. In the late afternoon we'd check into our charming B&B with a beautifully appointed room and get ready for a night on the town.
(Picture at right is of the St. Augustine "Love Tree" on Cordova Street, a palm tree that actually grew from the loving embrace of a live oak. Rumor has it that a kiss in front of the Love Tree will seal two hearts forever!)
Carriage Rides
Down on the bayfront we'd settle onto one of the benches along the sea wall to watch the orange glow fade out of the night sky.
When the lights along the Bridge of Lions came to life, we'd embark on a romantic carriage ride through the cobblestone streets, listening to the gentle clop-clop of the horses hooves as we learned about the city's rich history and sipped glasses of champagne.
Restaurants
Our kind driver would drop us off at our restaurant of choice for some delicious food and a little live entertainment. If the night was nice (and it probably would be) we'd be sure to get a seat in a patio or courtyard to enjoy the breeze off the bay and sip a few drinks before the main course.
Beaches – Desserts – Accommodations
Following dinner, a quick trip across the bridge to the beach would be in order to take a moonlit stroll along the sandy shore. With the salty breeze still lingering in the air, we'd return to the city for a nightcap and a little dessert before retiring to our charming bed and breakfast for the night.
You can make all of this a reality with a trip to St. Augustine! Even if you can't join us for Valentine's Day, the romance sticks around 365 days a year, so you're welcome to bring your sweetheart to visit anytime and experience the magic our little village has to offer.
Need more ideas?  Accommodations   Restaurants
Book a tour from our advertiser below.
– OldCity.com
The post Valentine's Day in St. Augustine appeared first on St. Augustine, FL | Oldcity.com.
#mortgagestaugustine, #staugustinecondomortgage, #staugustinecondomortgagerates, #staugustinecondotelfinancing, #staugustinecondotelmortgagerates, #staugustinemortgage, #staugustinemortgagebroker, #staugustinemortgageclculator, #staugustinemortgagecompany, #staugustinemortgagerates